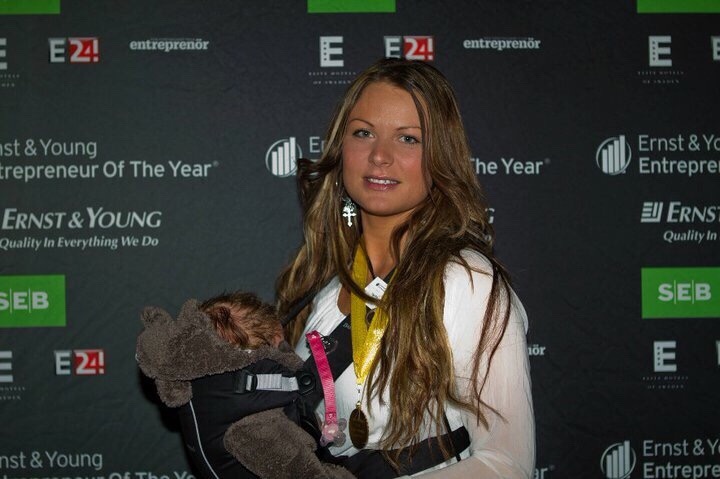 Being booth a entrepreneur and a Mom is the best thing in the world. Yesterday we celebrated Mother's Day here in Sweden. I became a mother 5 years ago, and that was the happiest day of my life. At that time I was also in the middle of a very intense phase of building up Rapunzel and we were growing very fast. My daughter has grown up hanging with me at home, in the office, following me too meetings and exciting trips. Now I like to chare a memory with you. Just four weeks after my daughter come into the this world, she accompany me on a very special dinner at Stockholm City Hall. That evening in 2011, I received a national award as the year's female rising star in Sweden at the Entrepreneur of the year gala. A fantastic price I'm incredibly proud and grateful for. It was a night to remember. Especially when I got to share that moment with my beloved daughter in my arms.
Att både va Entrepreneur och mamma är det bästa jag vet. Igår var det morsdag. För 5 år sedan blev jag mamma. Den lyckligaste dagen i mitt liv. Det var också en tid då jag var mitt i en väldigt intensiv fas i att bygga upp Rapunzel. Därför har min dotter under åren fått följa med mej på kontoret, på möten och spännande resor.  Nu vill jag dela ett minne med er. Bara 4 veckor efter att Milla kommit till världen fick hon följa med mej på en mycket speciell middag i Stockholms stadshus. Den kvällen 2011 mottog jag nämligen ett nationellt pris som Årets kvinnliga stjärnskott i Sverige på Entrepreneur of the year galan. Ett fantastiskt fint pris jag är otroligt stolt och tacksam över. Det var en trevlig och kväll, som jag för alltid kommer att minnas. Speciellt då jag fick dela den stunden med min älskade dotter i famnen.
Congratulations all the mothers out there, you are all worthy of  a "mother of the year" golden medal for doing what you do. You are perfect just the way you are and remember that everything is possible. You should never choose between being a mother and your career- you can do booth. / Grattis på morsdag alla mammor, ni alla är världa en "Mom of the year" medalj runt halsen för det ni gör! Du är perfekt, precis som du är,  och glöm inte att du ska aldrig behöva välja mellan att vara mamma och att göra karriär- du kan göra båda.
Love /Ida